Rafting 65
Rafting in the Pyrenees
Nothing to do with white waters of Colorado in the middle of the desert with ultra-turbulent rapids. This is the France and the Pyrenees with landscapes ultra-green and wild typical of our mountains. With our team of rafting guides you're off on an adventure in complete safety on the the most popular on the Gave de Pau.
White water in the Hautes Pyrénées
Our rafting instructors take you on a discovery tour of the Gave de Pau. Aboard a raft or a mini-raft (hot dog kayak)Take a trip down the rapids. The river flows straight down from Saint Lary Soulan andArgelès-Gazost.
A only 30 minutes from Pau and 40 minutes from TarbesThere are also full-day and half-day discovery tours on the eaux-vives des Hautes-Pyrénées.
Rafting is one of the most popular white water sports accessible to as many people as possible. User-friendly par excellenceThis is an ideal activity for groups of friendss, the hen or stag partiess, the family holidays with young children colleagues and all thrill-seekers. During a rafting trip, team spirit is strengthened, it's an opportunity to spend a pleasant time in a group in good spirits at heart of the Pyrenees.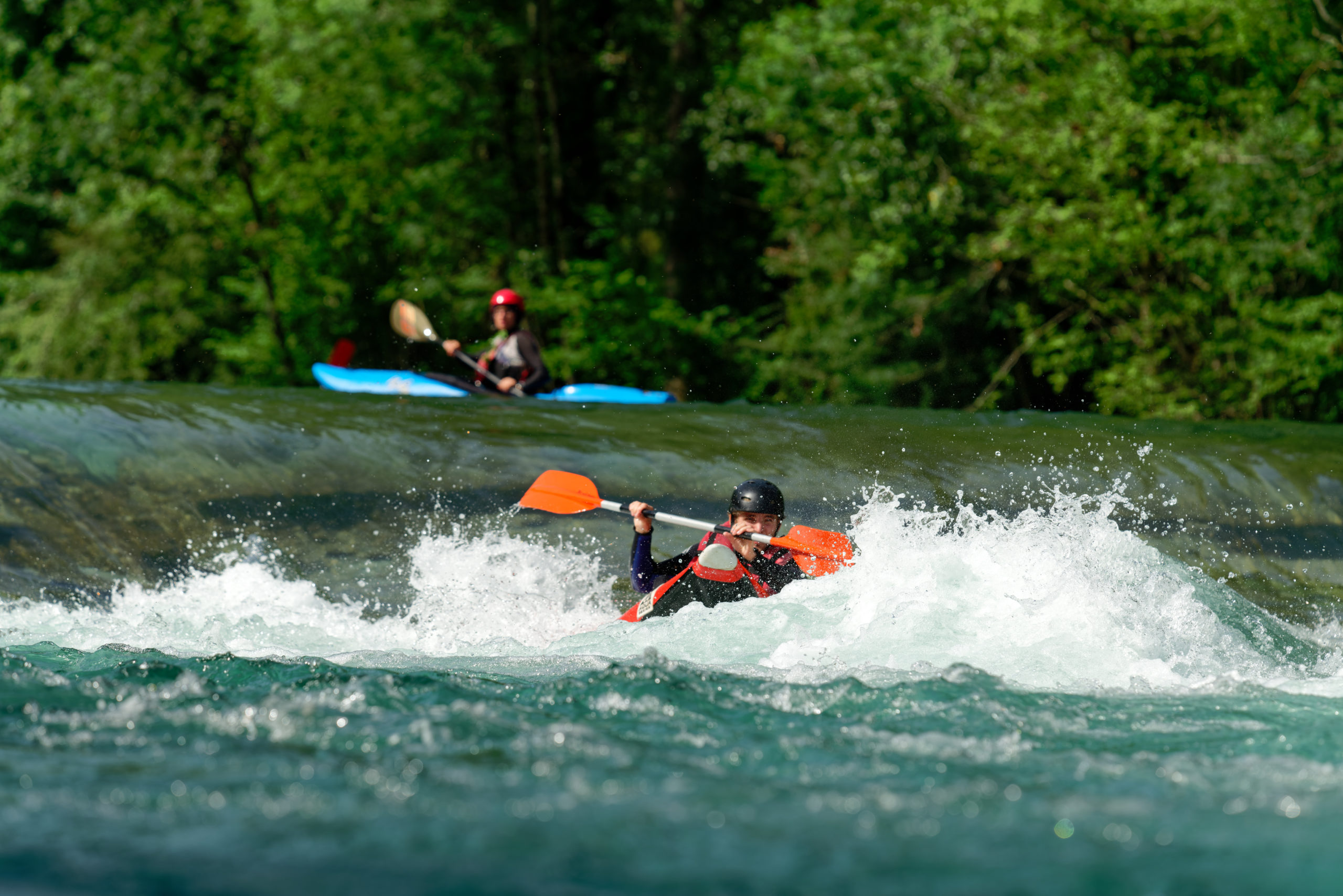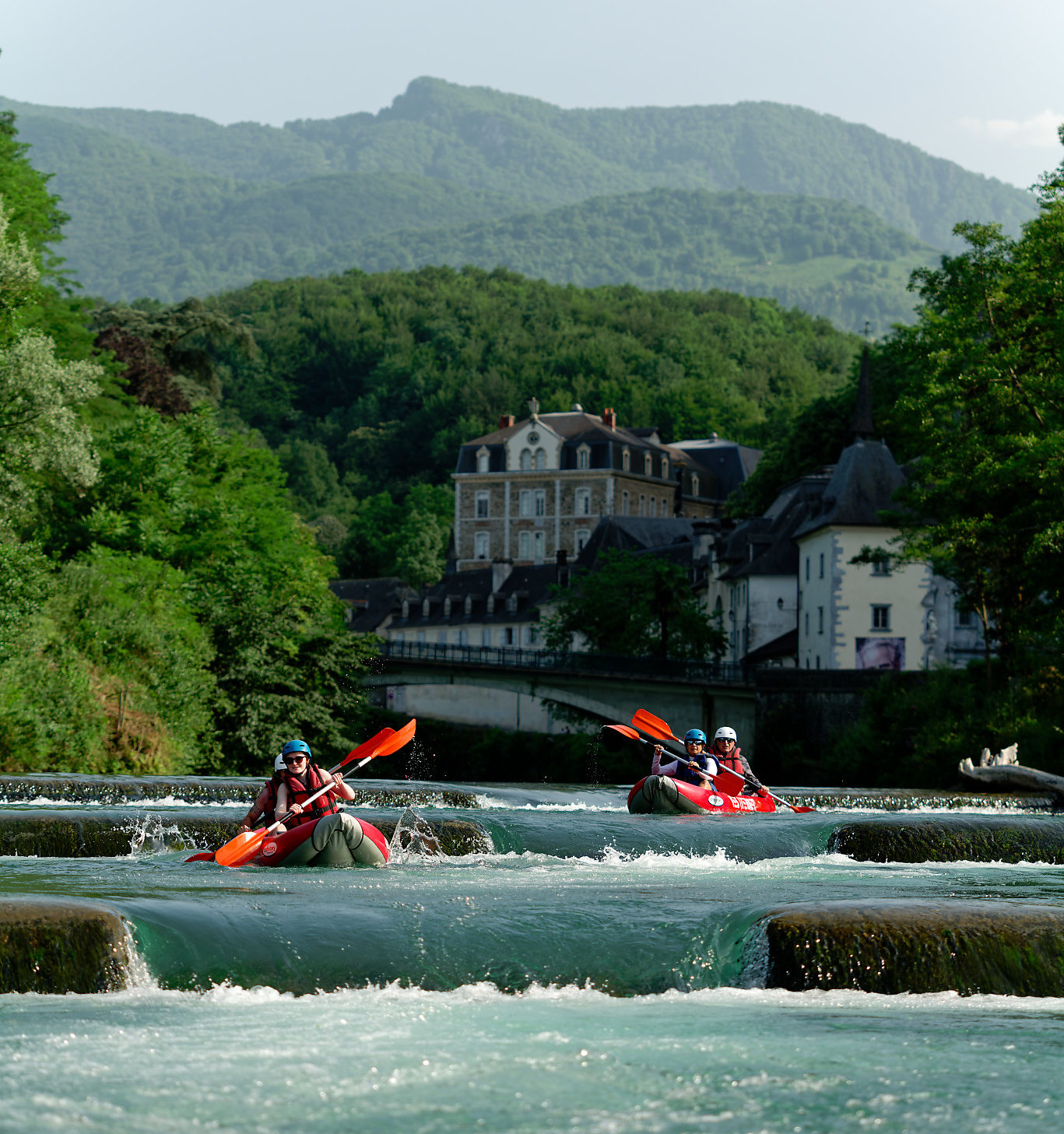 Fun rafting course
Rafting is one of the most popular whitewater activities in France.
Day rafting activity :  On the trip from Lourdes to Lestelle-Betharram, let yourself be carried away by the turquoise waters of the Gave de Pau. But this rafting day is no less strenuous: you'll have to paddle as a team to keep the boat going through the river's rapids. You'll enjoy a mid-day lunch break in a wild, natural setting just 30 minutes from Pau in the Pyrenees.
Half-day rafting activity:  From St Pé de Bigorre to Lestelle-Betharram, this trip takes 2 hours on the water. This rafting trip is great fun in summer and more sporting in spring. You'll form a real team with the other people in your raft to cross the white waters of the Gave de Pau in complete safety.
The meeting point is in Lestelle-Betharram at our white water base at camping le Saillet. Take your swimming costume, a towel and a pair of closed-toe shoes and we'll take care of the rest!
Book your outing with your instructor as a treat for yourself or even as a gift voucher for a special event for your loved ones.
History of rafting
The origins of rafting very often dates back to 1950, on the river Colorado. However, it seems that in reality, in 1842 Lieutenant John Fremont led an expedition on a tributary of the Missouri. For this adventure, Fremont and his sidekick built the first rubber raft, laying the foundations for what was to become modern rafting...
Rafting was often used as a military craft to transport men and equipment across rivers.
In 1940, the Salmon River became one of the first to offer guided rafting trips through American whitewater. The first enthusiasts used surplus military rafts to tackle the rough waters.
During the 1972 Munich Olympic GamesKayaking put whitewater rafting on the map by becoming an official sport and being presented for the first time.
Since then, the equipment used for rafting has continued to evolve, and this activity continues to fascinate the public. lovers of adventure and thrills around the world.
Definition of rafting
Rafting is an English term which comes from  to raft.
Rafting is one of the most popular white-water activities in the mountains, alongside canyoning and hydrospeed.
Rafting is a leisure activity which consists of go to parts of turbulent rivers in a inflatable boat steered either by several crew members using a paddle or by a single person using a rowing machine.
Less technical than kayaking, rafting more often attracts holidaymakers in the mountainsincluding families with young childrens, the groups of friends but also lovers of rapids and wild nature. Canoeing is practised in relatively calm water, on a river or wide stream for example. Rafting is sportier, with more thrills on the water, particularly when crossing natural obstacles and rapids in the river.

There are two types of rafting boat:
- the raft 8 to 10 seaters, very stable and able to cross rapids inaccessible to other boats
- the mini-raft or hot dog from 3 to 5 seats, for slightly sportier descents.