Rafting Pau: Half-day rafting trip down the Gave de Pau, Pyrenees
1h45 to 2h00 sailing time
Late June to late September
From the end of June/beginning of July, we'll be taking up summer residence at the le Saillet campsite in Lestelle-Bétharram in the Pyrenees, where our white-water rafting centre.
We offer you a rafting on the Gave de Pauwhich rises in the famous Gavarnie cirque in the Hautes-Pyrénées.
Water flowing down the Hautes Pyrénées from Lourdes form the most popular rapids in the region.
A half-day rafting trip in the Pyrenees in the heart of the wilderness for a great time with family and friends, although there are a few rapids to remind you that this is a real adventure. white-water activities. No need for experience, this descent is suitable for all levelsBeginners and experienced alike. In spring, this course is more sportsman thanks to melting snow which raises the water level.
38€
per person
(from 1 to 4 people)
35€
per person
(family 4 pers / group 5 pers / -16 years)
The price includes the supervision, the loan of the equipment, the insurance in RC
Advance booking essential
General Info
Location: Gave de Pau river. RDV at the campsite le Saillet in Lestelle-Bétharram 64800 (Google Maps RDV) where our nautical base is located, at the arrival of the course
from the end of June to the end of September
1h45 to 2h00 of descent, but it is necessary to count +/- 3h00 in all by adding the dressing, the preparation, the shuttle, etc.
In July-August: 3 possible departures: RDV 9:00 am; 1:00 pm or 4:15 pm
September: RDV 9.30am or 2pm
Levels / Difficulties
Class II / III river.
There is always a current, some rapids are really moving with a lot of relief, waves, rocks to avoid: learning how to navigate in white water.
Between the rapids, there are quieter periods for contemplating the landscape or swimming.
The only requirements for rafting are that you can swim and that you are fit: no sporting ability or previous experience is required.
In miniraft / kayak-raft, minimum 12 years old and depending on the flow we may require previous paddling experience.
Conditions
Knowing how to swim
Children from 7 years old
Warn if you have a medical history
Framing
The activity is supervised by a qualified instructor in canoeing and kayaking and associated disciplines, member of the Ossau valley monitors' officeChlorophylle Adventure.
Groups of maximum 10 participants per instructor.
Materials provided
Neoprene wetsuit
Waistcoat
Headset
Paddle
Boat
Changing rooms in our rafting base, in the Saillet campsite in Lestelle-Bétharram.
Showers available at the campsite.
Departure
Communicated when you register.
A pair of closed shoes that will get wet (trainers, tennis shoes, water sports shoes, but not flip-flops or sandals)
Sunglasses holder
Lycra T-shirt if you have one (optional)
Bath towel
Sunscreen
No credit card for payment on site, please bring a cheque, cash (with a deposit if possible), holiday vouchers, ANCV sports vouchers.
All our rafting packages
Rafting in spring (April to end of June):
Rafting in summer (late June to early October):
Rafting = two ways of sailing
Rafting with a guide in the boat.
Steered by a monitor, the boat will always pass the right place!
The 4 to 10-seater raft is the safest boat, accessible to everyone as long as they can swim.
NB: The choice between a boat with a guide or a boat that you will steer yourself can be made at the time of registration or on the spot, we will advise you.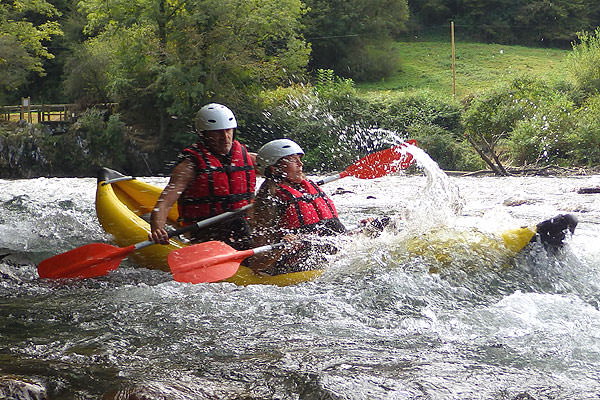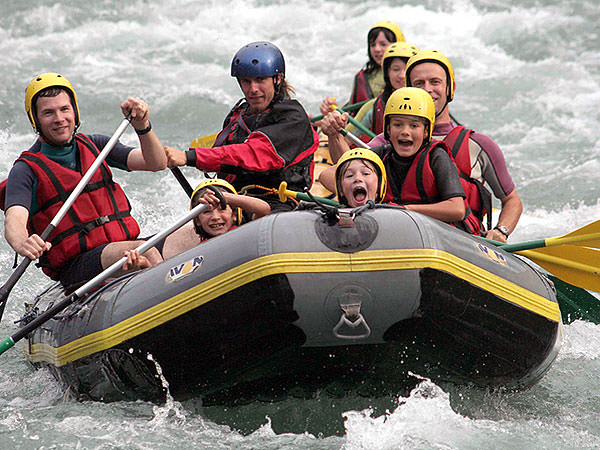 In a 3-6 person mini-raft or a 2 person kayak-raft.
You're the pilot! You'll need to learn how to manoeuvre the boat and read the river to choose the right course through the rapids! You don't need to be a champion - inflatable boats are much more stable and easier to handle than traditional kayaks.
As soon as the river has reached its low water level, these are the most popular boats for teenagers and adults. The instructor is always present at your side, in his own boat, to ensure safety and to guide you.
NB: The choice between a boat with a guide or a boat that you will steer yourself can be made at the time of registration or on the spot, we will advise you.
Legend
Canyon
Rafting
Caving
Mountaineering
Via Ferrata
Via Cordata
Climbing
MOUNTAIN BIKE
Catering Parking