Steps to be taken:
A reservation is necessary (as for the other activities) by phone, email or directly online to guarantee places but also because the guides limit the number of participants for a quality service.
- At the time of booking, we send you 2 emails:
The first email is the activity detail with all the important information about the outing (meeting place and time, equipment to bring and equipment provided), we recommend you read it in full and do not delete it.
N.B. : The meeting place indicated in the email with the Google maps point is a car park near the canyon but it is not our office so if you don't know where the meeting place is, call us!
The second e-mail is a request for measurements to be filled in as the guide provides you with a neoprene suit (jacket + overalls), harnesses, helmets and neoprene socks to be slipped into your personal shoes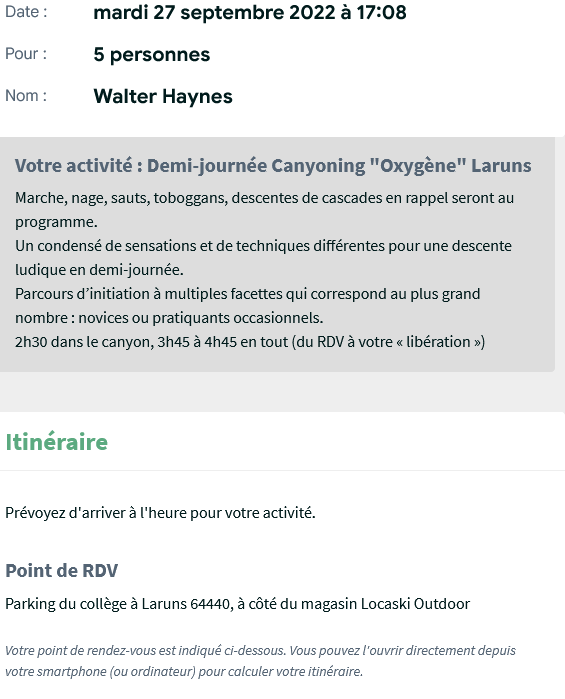 What to expect for canyoning
Shoes to be provided:
A pair of lace-up sports shoes (tennis shoes, trainers, hiking shoes)
Beware of old shoes from the back of the cupboard that come unstuck when they come into contact with water. With the dried glue of the shoe, the sole can come off during the course and we let you imagine what happens next ...
Shoes to avoid when canyoning: water shoes, sneakers, city shoes, fivefingers, heels (we're not kidding, you never know!))
If you don't have suitable shoes, you can always rent them from LOCASKI in Laruns, but you have to book them in advance!

Payment:
If you book online, you must pay in full directly by credit card.
If you book by phone or email, a payment link is sent to you to pay by credit card either in full or as a deposit.

To confirm your booking, a minimum deposit of 50 % is required, thank you for your understanding. For the balance of the payment on site, please bring a cheque, holiday vouchers or cash (the guides do not have an electronic payment terminal for credit cards).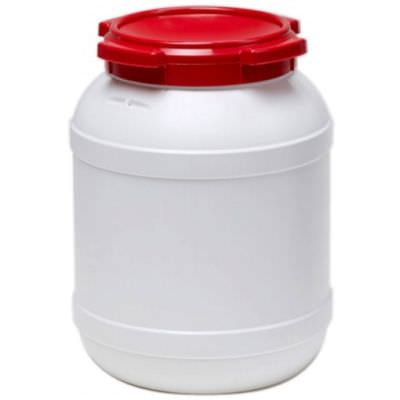 Accountability and the environment
- Remove the label from the water bottle to avoid finding the labels in the water later
- Follow the guide's route and don't trample everywhere to keep the canyon's flora and fauna intact!

- No peeing in the wetsuits even if they are cleaned every day, we wash them by hand... thanks in advance for your understanding!

- Concerning picnics, if you are on a 2 canyons adventure day, i.e. with a meal break between the 2 canyons, your picnic will remain in your vehicle so don't forget to leave your waste and packaging at the end of your meal.

-If you have chosen a day with a picnic in the canyon (1 canyon day Oxygen, 1 canyon day Adventure and 1 canyon day Envergure), remember to bring food that can be easily transported in a watertight container that your guide will lend you. Take a bag to keep your empty packaging during the descent and throw it in a bin at the end of the day.
What is my level?
The difficulty of canyoning is the evolution on slippery ground with obstacles to cross.
Oxygen (all audiences) = be able to walk for 2 hours on chaotic ground.

Adventure (resourceful) = have good physical stamina and be able to do 3m jumps without apprehension.

Span (experienced) = have experience in canyoning, be comfortable on small jumps requiring aiming, be comfortable with height for abseiling.

Canyoning, even in the "all public" formula, remains a physical and sporting activity.
It is imperative to know how to swim!
Received ideas: 
- 1 canyon + it's hard + it's fun = wrong
- The difficulty is linked to the technicality of the canyon, i.e. the difficulty of the jumps and not their heights, the difficulty of the progression (de-escalations, walking in the bottom of the canyon,...), the number and complexity of the rope obstacles (abseils, handrails)
What about health?
Allergies, treatments, old wounds..., warn us!!!
The guide will ask you this question on the spot too!
We do not recommend canyoning for pregnant women as there is no guarantee that falls will not occur. You are going through a potentially slippery waterway, which can lead to small falls that are not normally serious, but can be more serious for you ladies if you are pregnant!

Wearing goggles is not a problem, it just requires a little organization in the canyon, you will have to remove them in the most eventful parts!

We don't need a medical certificate for canyoning, we trust you to tell us everything ? All this advice is for your own good!